Fill in the Online Pledge Card here
Electronic Transfer of Offerings/Pledges
In response to requests received, offerings and pledges can now be offered via the following electronic modes
PayNow App
Key-in the Church UEN: S87CC0528A
or scan the QR Code using your preferred bank app: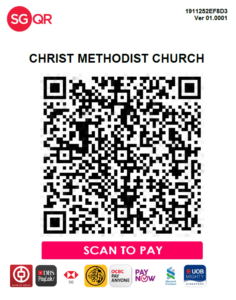 Online Bank Transfer
Bank: DBS Bank (Parkway Parade Branch)
Bank Code: 7171
Branch Code: 004
Auto-Save Account Number: 004-019765-8
Bequests, Legacies and Gifts
If you are interested to make a donation to Christ Methodist Church in the form of real property, shares, bonds and other registerable assets, here's what you need to know:
The recommended manner of making bequests, legacies and gifts to our Methodist churches and other entities is for the donor to name the intended recipient of the donation in the following manner:
"The Secretary of the Trustees of The Methodist Church in Singapore, a body corporate incorporated by and under the Methodist Episcopal Location Board Ordinance, Chapter 368, Singapore Statutes, UEN: T08CC4020E, on behalf of and for the benefit and use of Christ Methodist Church, UEN: S87CC0528A, currently located at 597, East Coast Road, Singapore 429082."
Donations should be made to The Secretary of the Trustees on behalf of the church. This is because none of our Methodist churches have separate legal status and complications can occur when donations are made to the intended Methodist church directly.
Please take note that the Secretary of the Trustees is established by statute only to serve as trustee for Methodist entities, and should not be named as the executor or trustee under an individual's will. If named, The Secretary of the Trustees will be unable to accept such an appointment and unnecessary expenses may be incurred to secure the appointment of another executor.
Please contact the Church Office at 6345 3934 for more information.